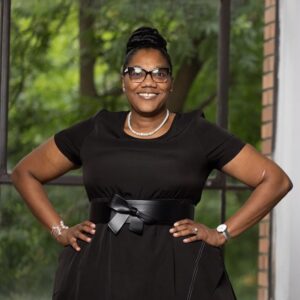 FIRST LADY KECIA CARR
Kecia Carr is the first Lady of Zion Temple Church, where she proudly serves with her husband of 29 years, Pastor Clinton Carr, Jr. She is an anointed woman of God. Her love for Him is evident in her servitude and exemplified through her ministry to the congregation and community.
No stranger is Lady Carr to the Zion Temple church family since her father, the late District Elder McWallace Williams, Sr. pastored the church back in the late 80's, as did her brother, the late Elder McWallace Williams, Jr., who pastored the church before her husband was appointed pastor in 2001. She is very grateful for her up-bringing. Both her father and mother, the late Mother Sarah Williams, taught her at an early age about Jesus Christ and His love. Never will she forget His love, dedication, and unfailing determination.
During a weeklong revival in Brent, Alabama, her father preached a message on Heaven and Hell. Lady Carr remembers how he talked about all the horrible things in hell and all the horrible people that would be there. He said that when we die we would either go to Heaven or to that horrible place, hell. She recalls saying to herself that she did not want to go to that place! She knew she needed the Holy Ghost and she wanted Jesus to save her. She began to call on Jesus and was filled with the Holy Ghost. She was a changed person and has never been the same since that day in May 1979.
When Lady Carr's father passed in 1990, it was a very difficult time for her family and the church. District Elder Williams had touched so many lives during his time and the grief seemed too hard to bear but the Lord saw them all through. Lady Carr's oldest brother stepped in and began to pastor the church. She found herself jumping in and serving in any capacity needed. Dedication and faithfulness were some of the qualities her parents instilled in her and now those qualities were beginning to manifest. She worked alongside her brother who pastored 2 churches in the Birmingham area.
When it seemed like her family was re-established and moving along in Jesus' name, the unthinkable happened. Lady Carr's brother became ill and passed in July 2001. How could anyone remain faithful to God and to the church when two very close people that were loved and cherished so dearly were taken out of her life? Revelations 2:10 says, "Fear none of those things which thou shalt suffer: behold, the devil shall cast some of you into prison, that ye may be tried; and ye shall have tribulation ten days: be thou faithful unto death, and I will give thee a crown of life." Lady Carr leaned and depended on this scripture to see her through and just as her father and brother were faithful unto death, by the Grace of God, she too has vowed to remain faithful.
Lady Carr and her husband met in the church. They were married and not long afterwards, he was asked to take over the church. Never had she imagined being a Pastor's Wife…a First Lady…the Mother of the church. Never had it come into her thoughts but all the while the Lord was preparing her for a time such as this. Watching her mother serve with her father and her sister-in-law serve with her brother, she never thought it would be her. However, she thanks the Lord for the opportunity to serve on this level but most of all she thanks Him for His own way of preparing and keeping her unaware for what was to come. If she had known all of the roles she played would have landed her here, she would have missed out on her blessing.
As President of the Women's Council and Missionary Departments, Lady Carr teaches, empowers, and promotes strength and unity among the women at Zion Temple Church. She also sings on the praise and worship team ushering in the Spirit of the Lord. She currently serves as the Alabama Diocese Missionary Vice President, Alabama Diocese Sunday School Secretary, and Correspondent Secretary of the Alabama Diocese Ministers and Deacon Wives Guild.
Lady Carr attended Faulkner University and Life Christian University. She is a devoted, supportive, and loving wife to her husband and mother of two, Clinton III (Trey) and Alexander (Alex). She is a woman of grace and a firm believer of God and his Word. She has a zeal for God and it is evident by the way she lives her life.